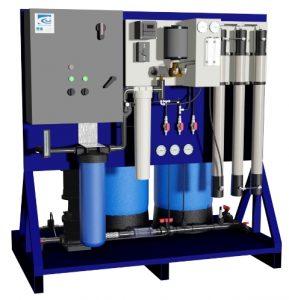 Increasingly, today's building engineers are recognizing the benefits of high-purity water in adiabatic (misting) and isothermal (boiling) humidification systems. Running this equipment with ordinary tap water requires frequent draining, flushing, and skimming. Even softening, which can provide a degree of relief, does not fully alleviate these maintenance headaches. In contrast, using high-purity (Reverse Osmosis (RO) / Deionized (DI)) water virtually eliminates any maintenance whatsoever on commercial humidifiers. This equates to less system downtime, less wasted effort, and extended equipment lifespans.
Water Control offers pre-packaged water supply solutions for commercial humidification equipment, featuring:
5 standard system sizes (fully customizable)
All necessary pre-softening and pre-filtration equipment
High quality membrane filtration (RO) units
Hydropneumatic and/or atmospheric storage tanks
316 stainless steel delivery pumps
Optional ultraviolet (UV) and submicron post-filtration
All required valves, gauges, test ports, and controls
Analog, digital, and SCADA input/output options
Single-point electrical supply connections
Equipment pre-wired, pre-plumbed, and secured to high quality, powder-coated aluminum skids
Need help with a high-purity water application? Click the Rep Locator in the side bar to locate a local Water Control representative.
Want to get started right away? Fill out our online system questionnaire. Once submitted, our team will arrange everything.
Treatment Systems for Humidification Brochure
AssureIQ Intelligent Water Treatment Controller Brochure