Water Reclamation
WATER CONTROL IS YOUR ONE-STOP PROVIDER FOR CUSTOM-BUILT WATER RECLAMATION SYSTEMS. With over 45 years of experience in specialty water treatment solutions, we have the technical knowledge, expertise, and equipment needed to get your non-potable water recycling project off-the-ground. From initial site analysis, to 3D design, specwriting, and on-site commissioning, our team of qualified technicians will ensure that every detail is addressed.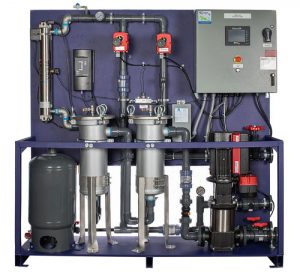 As world-wide water resources become strained and the Green construction movement grows, the interest in wastewater recycling has grown exponentially. Reusing rainwater, condensate, or graywater on-site can have significant financial and environmental benefits. But it is not without significant health and financial risk. The key is to work with a partner who understands these risks and can provide complete technological solutions. With nearly two decades of experience in water reclamation systems, Water Control is that partner.
System Overview
Packaged, skid-mounted, turnkey water recycling systems simplify installation and maintenance
Ultraviolet, Ozone, or Chemical treatment systems protect quality of water being delivered to fixtures/equipment and in storage tank
Sensors and actuated valves ensure that only safe, sanitary recycled water is delivered – and that a backup supply is readily available when this is not possible
Advanced Programmable Logic Controller (PLC) with Human-Machine Interface (HMI) and Building Automation System connectability provides versatile control and monitoring
WATER CONTROL SELECTS HIGH-QUALITY COMPONENTS FROM LEADING TECHNOLOGY PARTNERS, THEN CUSTOM-FABRICATES THEM INTO COMPLETE, "PLUG-AND-PLAY" PACKAGES THAT REQUIRE SIMPLE WATER, DRAIN, AND ELECTRICAL CONNECTION. WE THOROUGHLY TEST THE OPERATION AND INTEGRITY OF EACH OF OUR SYSTEMS PRIOR TO DELIVERY.
Standard Assure IQ™ Controller
Programmable Logic Controller
Animated HMI touchscreen
Component status and setpoint
Multiple user logins
Electronic maintenance reminders
BAS integration (Modbus ready, BACnet upgradable)
Trending information
System alarms
Extreme versatility for various operation requirements
Available Configurations
UV disinfection with up to 3 monitored lamps
Ozone (OZ) disinfection with ORP control
Sodium Hypochlorite (CL) disinfection with ORP control
"Recirculation-only" (RC) packages (delivery by separate booster pump)
Auxiliary tanks and injector pumps for residual disinfectant or dye
Self-backwashing (ACF) filters in lieu of standard bag filters
Resources
To get started, fill out our Water Reclamation Design Questionnaire. Once submitted, our team will arrange everything.

Water Reclamation Systems Product Overview