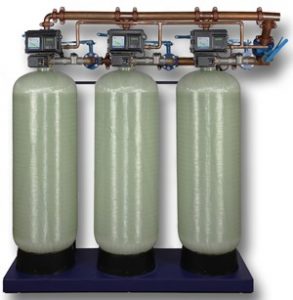 Accu-Pipe Skid System
Looking for a turnkey, packaged softening or filtration option? Specify a WCC (Water Control Corporation) Accu-Pipe Skid System. Once delivered to the jobsite, the contractors simply connect a water inlet, water outlet, drain, and power supply. It's as simple as that! WCC's experienced design team can take care of water testing, system design, drawing (CAD® or Revit®), specification writing, and budgeting. After the system is shipped or delivered, our Service Technicians will travel to the site for system setup, commissioning, and training.
System Features
Heavy- duty Steel and Aluminum Support Skids (Powder-Coated)
Single, Twin, Triplex, and Quad Softening and Filtration Equipment
Inlet, Outlet, Bypass, and Drain Manifolds Pre-piped and Pressure-Tested
Copper Sweat/ Groove /Press-Fit, Galvanized, Stainless Steel, or Sch 80 PVC Piping
Progressive Flow (Tank Staging with Lead/Lag) and Brine Reclamation
Single Point Electrical Connection Options
Resources
Want to get started right away with an Accu-Pipe Skid system? Fill out our online Commercial Softener Design Questionnaire. Once submitted, our team will arrange everything.
Commercial Water Softeners Product Overview