ASPE CEU Training Classes:
The following training classes provide CEU or PDH hours for engineers and designers. Please contact Andrew Paulsen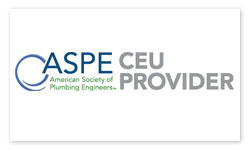 to schedule your class at our training facility or through a webinar.
High-Purity Water Systems (Commercial) – .1 credit
Water Reclamation (Commercial) – .1 credit
Water Softening: Systems and Applications (Commercial) – .1 credit
Controlling Legionella and Other Waterborne Pathogens – .1 credit
Domestic Water Treatment A-Z – .1 credit
Water Treatment for Commercial Humidification – .1 credit
MN CEU Classes:
In the spirit of sharing knowledge, WCC (Water Control Corporation) is offering training courses which provide contractor CEU credits. We hold these courses in our training facility and utilize experienced staff as instructors. Participation in these classes allows MN-licensed contractors to gain State of MN-certified CEU credits which are required for license renewal.
The MN Department of Labor and Industry approves the following CEU training courses:
Water Softeners 101 – 2 credits (Technical)
Commercial Water Softening: Systems and Applications – 2 credits (Technical)
ASPE CEU Course Descriptions
Commercial High-Purity Water Systems & Applications
Measuring water purity
Commercial High-Purity applications and standards
High-Purity water: production methods

Membrane filtration (RO)
Deionization (DI)
Electrodeionization (EDI)
Distillation

RO system components (pre-treatment, production, polishing, storage, delivery)
Additional components for ultrapure water
Pure water piping system design
RO system sizing/selection
Brief overview of Water Control's High-Purity water system offering
Commercial Water Reclamation Systems & Applications
Things to consider when designing a system
Potential sources of water
Potential water uses
Reasons to reclaim
Sanitation Pitfalls (the risks, and how to avoid them!)
Codes
Designing a system
Collection options (pre-filtration, calculating quantity of water available, etc.)
Storage (tank types and considerations)
Treatment (pros/cons of ozone, UV, and chemical treatment)
Delivery (re-pressurization considerations)
Advantages packaged systems
Water Control packaged options
Commercial Water Softening Systems & Applications
Basic water chemistry: Ions
How hard water forms and its effects
How a water softener works (the basics of ion exchange and regeneration)
Key softening system components
Multi-tank systems
Brine reclamation
Flow rates, pressure losses, and low flow issues
Sizing a commercial water softener (with several sizing examples)
A brief overview of the Water Control Commercial Softener product lineup
Controlling Legionella and Other Waterborne Pathogens
The basics of bacteria and other microorganisms
Biofilms and piping systems
Key pathogenic organisms of concern in domestic water systems
The basics of Legionella Pneumophila and Legionellosis
The CMS Memo on water systems in healthcare facilities
"Acceptable" levels of Legionella
Different methods of controlling Legionella/pathogen levels in plumbing systems (with pros and cons)
New technology: High-Capacity Ultrafiltration (HUF):

How it works
How it can be applied to point-of-use, point-of-entry (whole building), and hot water loops to control bacteria and nutrient levels
How the systems are installed, maintenance requirements, etc.
Cost comparisons with other technologies (chemicals, copper silver, etc.)
Case studies of HUF installations

A brief overview of the Water Control HUF product lineup
Domestic Water Treatment A-Z
Basic water chemistry (how contaminants get into the water)
Common contaminants affecting water aesthetics (taste, odor, and appearance)
Common contaminants affecting water safety
Ion exchange + applications
Oxidation / Filtration + applications
Membrane filtration + applications
Media filtration + applications
Mechanical filtration + applications
Chemical Injection + applications
UV/ Ozone + applications
Water Treatment for Commercial Humidification
Measuring water purity levels
Electrode humidification
Isothermal humidification

Softening (ion exchange) fundamentals

Adiabatic humidification

Reverse Osmosis fundamentals
Deionization fundamentals

Water disinfection for humidification
Pure water distribution piping for humidification feed
The benefits of pre-packaged water treatment systems
Sizing pure water systems for Adiabatic humidification feed