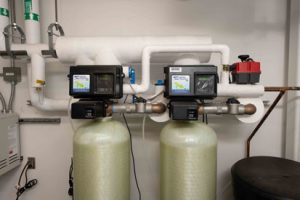 For nearly 50 years, Water Control has been a leader in commercial water softening technologies. From a small office building to an enormous industrial or physical plant, we have the systems and the expertise to solve your hard water issues. We offer packaged solutions with complete support in water testing, design/drawing, budgeting, system delivery, commissioning, and aftermarket service. A sampling of our system options includes:
Integrated Simplex, Twin, Triplex, and Quad Softening Packages
Standard Progressive Flow and Alternating Setup Capabilities
Brine Reclamation (Optional)
Pre-plumbed, Pre-piped, Packaged Turnkey Skid Systems
BMS Communication Systems
Need help with a commercial softening application? Click the Rep Locator in the side bar to locate a local Water Control representative.
Want to get started right away? Fill out our online system questionnaire. Once submitted, our team will arrange everything.
For further information on our commercial softening packages, visit our individual system pages.
Commercial Water Softeners Product Overview