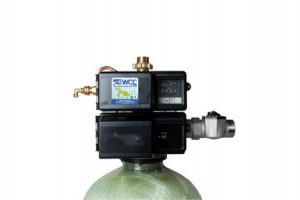 HF Series Water Softeners
3″ SERVICE, LARGE HEAVY DUTY VALVES
WCC (Water Control Corporation) HF Series water softeners feature 3" service connections, large heavy duty electronic control valves, high-strength fiberglass-reinforced mineral tanks, and long-lasting synthetic cation resin. This series is perfectly designed for apartments, hotels, commercial laundry, schools, hospitals, restaurants, industrial facilities, cooling towers, and other high flow/high capacity applications. Available options include single, twin, triplex, and quad systems. Steel resin tanks, progressive service, brine reclamation, and Accu-Pipe skid systems are also available.
HF Series Size Options:
Single tank: SIMPLEX (MR)
Two Tank: TWIN
Two Tank (Alternating): TWIN – ALT
Three Tank: TRIPLEX
Four Tank: QUAD
Additional HF Series Water Softener Options:
Progressive Service: Adds and removes tanks from service, based on flow demand
Brine Reclamation: Re-uses brine solution for significant salt savings (approx 30%)
Steel Tank(s) (optional ASME Rating)
Accu-Pipe Skid-Mounted System (pre-plumbed, pre-wired system, mounted on heavy-duty skid)
Accu-Pipe LS: Same as Accu-Pipe System, less skid base (piping/wiring only)
Brine Silo (large volume salt storage / brine generation & delivery system)
Salt Sock and Access Door (lockable) for blow-in salt delivery
Specialty Filter Options for HF Series:
Carbon
Tannin
Acid Neutralizer (Calcite)
Dealkalizer
Additional media options available, call for details
Advanced Controller:
Real-time diagnostics

Flow rates, totalizer, capacity, avg. usage, alarm history, and more

Remote input for forced regeneration and regeneration lockout
2 programmable relays for auxiliary equipment, BAS indication, remote alarms, etc.
Resources
Want to get started with an HF Series Water Softener? Fill out our online Commercial Softener Design Questionnaire. Once submitted, our team will arrange everything.
HF Series Water Softeners Brochure
Commercial Water Softeners Product Overview