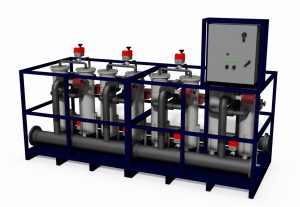 Specialty Treatment for Difficult Water Problems
Need to remove sediment and particulates from water for reasons of aesthetics (turbidity) or system protection?  Or are you tackling a more challenging treatment issue, such as nitrates, arsenic, heavy metals, industrial byproducts, microorganisms, etc.? Look no further than Water Control. Our technicians have a host of treatment technologies at their disposal, including:
Basket, Bag, Cartridge, and Backwashing Filters
Ion Exchange
Oxidation/Filtration
Membrane Filtration (Reverse Osmosis, Nanofiltration, Ultrafiltration)
Chemical Injection
Rainwater and Reclaimed Water Treatment
Need help with a specialty treatment application?
Click the Rep Locator in the side bar to locate a local Water Control representative.