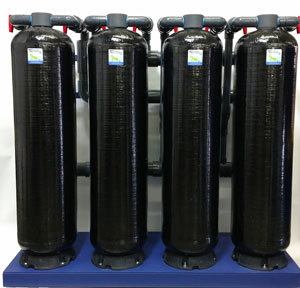 Anti-Scale Systems
Looking to protect piping and equipment from hard-scale, but don't want to deal with water softener salt requirements? Our SC-Series Anti-Scale systems are available as stand-alone or in packaged skid systems. They use Watts OneFlow® technology to remove calcium from solution via a Template Assisted Crystallization process. Once out of solution, the calcium no longer adheres to pipe and equipment surfaces. While the water does not become "soft," the calcium can safely pass through the system without hard scale buildup.
SC-Series systems completely protect fixtures and plumbing systems from the build-up of hard scale residue. While they do not provide the same bather benefits as commercial water softeners (i.e. soft skin and hair), they require no electricity, salt, chemicals, or backwash water. Moreover, they generate virtually no system pressure loss, and occupy far less space in the mechanical room. Whether you are seeking a cost-effective means for protecting your boilers, dishwashers, and heat exchangers — or a "green" solution for protecting an entire plumbing system – a WCC (Water Control Corporation) SC Series System may be the solution.
Features
Chemical free scale prevention and protection – converts hardness minerals to harmless, inactive microscopic crystals making SC-Series Systems effective alternative technology to water softeners for the prevention of scale due to water hardness.
Virtually maintenance free – No salt bags or other chemicals to constantly add.
No control valve, no electricity and no wastewater.
Uses environmentally friendly "green" technology.
Improves efficiency of all water-using appliances – both hot* and cold.
Simple sizing & installation – all you need to know is pipe size and the peak flow rate.
Perfect system for towns or communities where water softeners are banned or restricted.
OneFlow™ media does not remove minerals or add sodium to the water supply.
SC-Series Systems can be installed as a pre-treatment to reverse osmosis (The SC-System should be the last stage in treatment unless a point-of-use system is being used downstream).
Resources