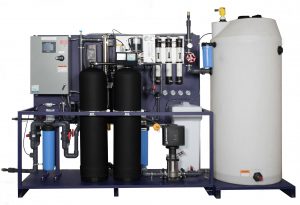 Generating and distributing large amounts of ultra-pure water can be a complicated business. Varying levels of input water quality, and varying requirements for output water quality mean that every system must be custom-designed and custom-built. WCC specializes in custom, packaged, turnkey, high-purity water systems. Let our staff of competent designers and technicians guide you through this process, from design to commissioning and service. Look to Water Control for:
Comprehensive raw water testing/analysis
System specifications, drawings (CAD® or Revit®), budgeting and submittals
Packaged reverse osmosis / deionization (RO/DI) systems up to 200,000 gallons per day
Pre-filtration and treatment equipment
Storage vessels and delivery pumping packages
High-purity loop treatment (UV and filtration)
Commissioning and service
Experience and knowledge in high-purity system design for health care, HVAC, educational, industrial, and drinking water applications
Need help with a water application? Click the Rep Locator in the side bar to locate a local Water Control representative.
Want to get started right away? Fill out our online system questionnaire. Once submitted, our team will arrange everything.
High-Purity Water Systems Brochure
AssureIQ Intelligent Water Treatment Controller