High-Purity Water Systems
Generating and distributing large amounts of ultra-pure water can be a complicated business. Varying levels of input water quality, and varying requirements for output water quality mean that every system must be custom-designed and custom-built. WCC (Water Control Corporation) specializes in custom, packaged, turnkey, high-purity water systems. Let our staff of competent designers and technicians guide you through this process, from design to commissioning and service.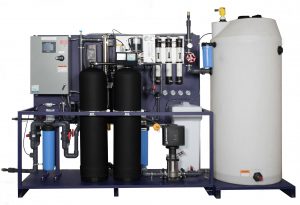 With 50 years of experience in specialty water filtration solutions, we know exactly what's involved in getting a customized system built and running. From initial water testing, to 3D design, spec-writing, and on-site commissioning, our team of experienced technicians take the time to ensure that every detail is addressed. This is high-purity water made simple!
High-Purity Water Systems Features
Comprehensive raw water testing/analysis
System specifications, drawings (CAD® or Revit®), budgeting and submittals
Packaged reverse osmosis / deionization (RO/DI) systems up to 200,000 gallons per day
Pre-filtration and treatment equipment
Storage vessels and delivery pumping packages
High-purity loop treatment (UV and filtration)
Commissioning and service
Experience and knowledge in high purity system design for health care, HVAC, educational, industrial, and drinking water applications
Standard Assure IQ™ Controller
Programmable Logic Controller
Animated HMI touchscreen
Component status and setpoint
Multiple user logins
Electronic maintenance reminders
BAS integration (Modbus ready, BACnet upgradable)
Trending information
System alarms
Extreme versatility for various operation requirements
High-Purity Water Systems Applications
Medical sterilization equipment
Humidification
Laboratories
Industrial / Manufacturing
Ice and drinking water production
Boiler feed
Steam systems / Misting equipment
Vehicle wash
Agricultural / Food production
Resources
Want to get started right away? Fill out our High Purity Design Questionnaire. Once submitted, our team will arrange everything.
High-Purity Water Systems Brochure
AssureIQ Intelligent Water Treatment Controller
Commercial Water Treatment Solutions