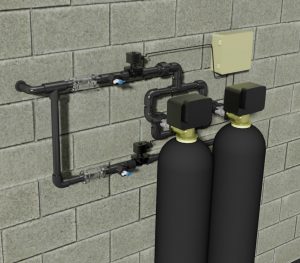 Iron is found naturally in many groundwater supplies. Although this mineral is an essential health component, it can cause major harm when distributed by irrigation systems to structures and concrete work. The TurfMaster Iron Filtration for Irrigation Systems are designed to remove iron NATURALLY, without any need for costly and undesirable chemicals. With integration available from most irrigation controllers, filtration only takes place where necessary (zones affecting structures or concrete). This efficient system reduces equipment needs, minimizes ongoing maintenance costs, and maximizes filtration effectiveness.
The TurfMaster Iron Filtration for Irrigation System features single or twin filter operation, based upon flow rate and removal capacity needs. Water is first exposed to an internal pocket of air, oxidizing dissolved iron, manganese, and sulfur out of solution. Using a special filtration media, it is then scrubbed of these offensive particles, producing clean, nonstaining, odorless water. Every 1 – 3 days, the system backwashes these particles to drain and recharges the tank and media with oxygen.
Need help with a specialty treatment application?
Click the Rep Locator in the side bar to locate a local Water Control representative.
TurfMaster Iron Filtration for Irrigation Systems Brochure
TurfMaster System Sizing Questionnaire  
TurfMaster Installation & Operation Manual