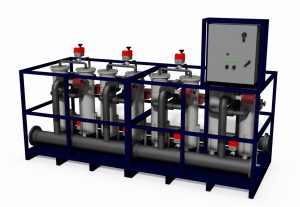 Specialty Water Treatment Systems
Need to remove sediment and particulates from water for reasons of aesthetics (turbidity) or system protection? Or are you tackling a more challenging water treatment issue, such as nitrates, arsenic, heavy metals, industrial byproducts, microorganisms, etc.? Look no further than WCC (Water Control Corporation) for a solution with one of our specialty water treatment systems.
Some of the solutions we offer include:

Template Assisted Crystallization (TAC) filters.  These systems feature a special media that pulls dissolved calcium (hardness) out of solution and renders it into a harmless crystalline form, which will not create hard-scale buildup problems in pipes, valves, and equipment.
Granular Activated Carbon (GAC) systems for the absorption/removal of chlorine, chloramines, lead, PFAS, PFOS, and other contaminants.
Large-scale systems for the removal of Arsenic III and Arsenic V to safe levels, below USEPA and state guidelines.
Commercial Iron Filtration systems, which utilize a simple backwash of air and water to provide years of maintenance free service in the removal of iron, manganese, and hydrogen sulfide.
Specialized Iron Removal systems for irrigation applications: to protect sidewalks, and facades from red staining.
Automatic back-washing filters to remove suspended solids and particulates from 300 micron to 5 micron in size.
Media filters, as well as chemical injection options for increasing pH (acid neutralizers) or decreasing pH (dealkalizers).
If there is a contaminant in domestic water supplies, there is a good chance Water Control can find a way to remove it.  Our vast knowledge of water treatment technologies – and extensive network of industry partners – allow us to develop a solution to virtually any water quality problem.  Contact our system Design Team today to get started!
Reference EPA Ground Water and Drinking Water for additional information