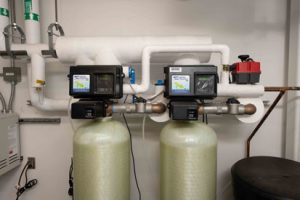 Commercial Water Softeners
WITH 50 YEARS OF EXPERIENCE IN THE WATER CONDITIONING AND PLUMBING INDUSTRIES,  WCC CAN DESIGN AND MANUFACTURE EQUIPMENT FOR VIRTUALLY ANY COMMERCIAL WATER SOFTENER APPLICATION.
We offer a complete line of services, including water testing, system sizing, BIM (Revit®), specification writing, delivery, setup, startup, and aftermarket service plans. We maintain a unique focus on mechanical engineers, wholesalers, contractors, and the commercial construction industry as a whole. Depend on us to provide quality, innovative solutions for all your commercial water softener treatment needs.
ALL UNITS FEATURE HEAVY DUTY ELECTRONIC CONTROL VALVES, NON-CORROSIVE HIGH-STRENGTH FIBERGLASS MINERAL TANKS (UPGRADABLE TO STEEL), AND LONG-LASTING SYNTHETIC CATION RESIN.
Standard  Features:
Metered Regeneration

Regenerates based on actual usage.
Programmable timer override for media protection.

Progressive Service

Brings additional softener tanks online and offline according to GPM demand.
Lead/lag functionality for continuous service and equal wear.

Multiple Tank Systems

Provide for Twin, Twin Alternating, Triplex, and Quad tank configurations, to cover a wide range of applications. 5-8 tank "XL" systems available.

Pressure Gauges

Facilitate real-time monitoring of flow performance.

Sample Ports

Allow for easy testing of water quality.

Advanced Controllers

Real-time diagnostics and data logging.
Remote input and output options.
Popular Upgrades:
Brine Reclamation
Brine Silo System
Accu-Pipe Skid-Mounted Systems
Typical Commercial Water Softener Applications:
Apartments
Clinics, Hospitals
Cooling
Food Service
Hotels
Industrial
Laundry
Offices
Retail
Schools
Resources
Want to get started right away? Fill out our online Commercial Water Softening Systems Questionaire. Once submitted, our team will arrange everything.
For further information on our commercial softening packages, visit our individual system pages.
Commercial Water Softeners Brochure
Water Quality Association (WQA)