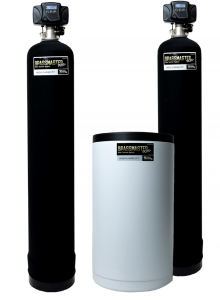 BrassMaster Plus pH Balancing Filters
Water pH level is an important factor in the expected lifespan of your household plumbing system. High pH [over 8.5] can cause premature failure of mechanical systems due to excessive scaling. Low pH [below 6.5] can cause corrosion of piping and valves, as well as the leaching of heavy metals into drinking water. BrassMaster Plus pH Balancing Filters are designed to neutralize pH, thereby protecting your home's plumbing system and the quality of your water.
Effective treatment of:
Low pH – Acidity
High pH – Alkalinity
BrassMaster Plus pH Balancing Filters Design
Water passes through a neutralizing media which balances pH levels. Regeneration is fully automatic. The acid neutralizer simply backwashes with water, while the dealkalizer regenerates with standard water softener salt.
APM Modular Design
All models include our popular APM™ modular design, which eliminates the need for field service. Simply put the unit in bypass, pull two pins, and remove the valve module. Replace it with a new valve with a 3-year (BrassMaster) or 5-year (BrassMaster Plus) warranty.
If your unit is still in warranty and you believe you require a new valve, please contact your installer.  If your unit is out of warranty, you can purchase a replacement valve at: https://shop.watercontrolinc.com/collections/replacement-modules
Resources
STS-300 Acid Neutralizer Installation & Operation Manual
STS-400 Dealkalizer Installation & Operation Manual
National Primary Drinking Water Regulations