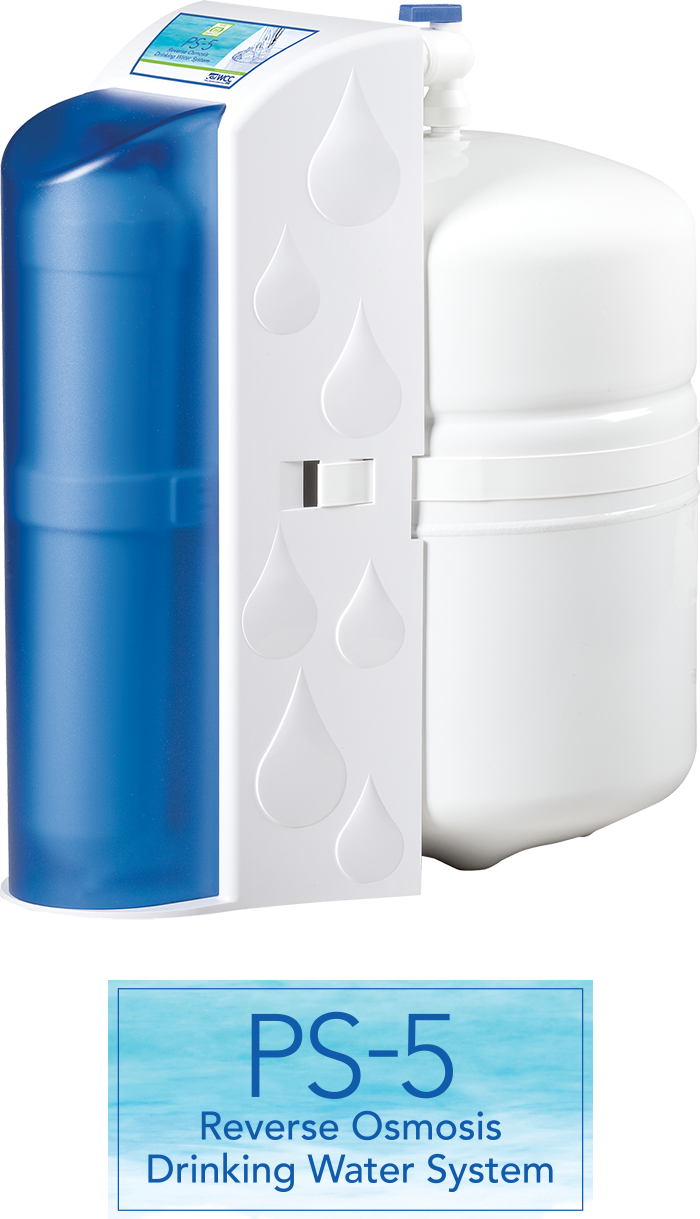 PS-5 Reverse Osmosis Systems
WCC's (Water Control Corporation) PS-5 Reverse Osmosis (RO) drinking water systems are the most space-saving, cost-effective residential system on the market. It combines sediment pre-filtration, carbon filtration, and membrane filtration into one compact cartridge, with a final coconut shell carbon filter for taste. System includes a small, integral pressure/storage tank, all required mounting hardware, and a standard chrome or designer finish deck faucet with integral air gap for code compliance.
System Features
Tested according to NSF/ANSI Standard 58 for the reduction of LEAD, ARSENIC, CYSTS, FLUORIDE and TDS
Compact and Simple
Easy to Maintain
Eco-Friendly
Water is our most precious resource and is a critical component to good physical health. Elements like chlorine, lead, and copper are often present in even the best household water systems. As a result, you and your loved ones may be unknowingly consuming these or other contaminants over extended periods of time. You can ensure that your family is drinking only the purest, most refreshing water right from the tap in your home with the installation of a PS-5 Reverse Osmosis (RO) system. You get bottled-water quality while eliminating the high cost and inconvenience of store bought products. Help protect the environment by reducing landfill waste created from disposable plastic water bottles.
PS-5 Reverse Osmosis – Green by Design
The PS-5 Reverse Osmosis (RO) systems use the latest in system design and membrane technology to reduce the amount of reject water sent down the drain by 50%. This represents a significant water savings: over 800 gallons per year for the average family.
Easy to Maintain
Yearly maintenance is quick and easy. Simply remove the cover and replace the main cartridge – no complicated plumbing connections, no tools required. The in-line post-filter utilizes easy quick-connect fittings for easy servicing.
Order Today
To order PS-5 units, cartridge replacement filters, or any additional information or questions, click to contact Water Control.
Resources
PS-5 Reverse Osmosis Systems Brochure
PS-5 Troubleshooting-Maintenance Manual