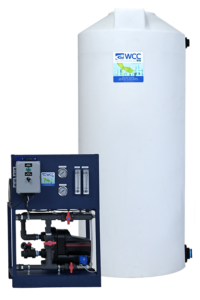 Whole-House Reverse Osmosis System
WCC's (Water Control Corporation) WHRO-700 whole-house all-in-one reverse osmosis systems provide safe, clean water for your entire building.
Sometimes, standard water treatment equipment just can't do the job. High levels of multiple contaminants can make removal complicated and expensive. This puts human health in danger and also risks shortening the life of water heaters, appliances and plumbing systems. In these difficult situations, WCC's WHRO-700 all-in-one reverse osmosis systems provide purified, safe water for your entire building. They allow you to start fresh, with a 'clean slate,' by providing near-bottled water quality to every fixture.
Tested according to NSF/ANSI Standard 58 for the reduction of LEAD, ARSENIC, CYSTS, FLUORIDE and TDS
Compact and Simple
Easy to Maintain
Eco-Friendly
Home, Restaurant and Light Commercial for Municipal and Well Water Applications
Whole-House All-in-One Reverse Osmosis: Efficient by Design
The WHRO-700 whole-house all-in-one RO system contains patented filter membranes, which use the basic pressure provided by a city or well supply and, in most instances, do not require a water softener for pre-treatment. The membranes last 2-3 years and remove approximately 90% of dissolved solids, at a ratio of only 1 – 1.3 gallons of waste for every gallon of production. An ozone generator keeps the water clean until it is ready for delivery to fixtures, via an efficient delivery pump. Most equipment is mounted on top of the tank, conserving precious mechanical room space; and the 10% of dissolved solids remaining in the water are sufficient to protect piping and fixtures from the corrosion sometimes caused by pure water.
Whole-House Reverse Osmosis System* Features
Integral sediment and 18 month chlorine pre-filter**
ENVI line pressure Reverse Osmosis modules (2 membranes)
Flow meters, pressure gauge, and system recovery (permeate) valve
Tank float and shutoff valve
Ozone generator for tank sanitization
200 gallon storage tank with FDA and NSF-61 certification
No additional softening or filtration needed for most installations
*All equipment mounted to custom aluminum frame at top of tank, with exception of pump. Patents pending.
**Replacement interval with chloramine disinfection is a maximum of 6 months. An optional, bulk (54 month chlorine/18 month chloramine) filter is available (P/N: FST-5418).
Resources
WHRO-700 Whole-House Reverse Osmosis System Brochure