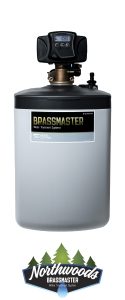 BrassMaster Northwoods™ Water Softeners
BrassMaster Northwoods™ water softeners take all of the functional components of our standard BrassMaster units and put them together in a small, compact system ideally sized for seasonal and light-usage residences. Time to winterize your clients' cabin? Simply put the unit into bypass mode, loosen 2 set screws, and remove the entire system. Installation and removal only takes a few minutes!
Both public and private water systems commonly have hardness which is often comprised of calcium and magnesium (along with iron). Left untreated, these minerals can disrupt laundering and bathing, while causing significant scale buildup in fixtures, appliances, and plumbing systems. BrassMaster water softening systems use the process of "ion exchange" to effectively remove these undesirable minerals resulting in clean, conditioned water, great for washing and bathing — and protection for plumbing systems and equipment.
BrassMaster Northwoods™ Features
Electronic Control Module
Metered Regeneration for Precise Salt Efficiency
Exclusive 3 Year APM Warranty
5 Year Tank Warranty
BrassMaster Northwoods™ Water Softener Design
BrassMaster water softeners utilize the "ion exchange" process to remove undesirable hardness minerals. Hardness is exchanged for very tiny amounts of sodium as Incoming water passes through a bed of cation resin. Periodically, after a specified amount of hardness has been exchanged, a salt solution "regenerates" the resin bed. Captured hardness minerals, along with excess salt solution, are sent to a drain. This leaves behind a recharged bed of resin, ready again for service.
APM Modular Design
All models include our popular APM™ modular design, which eliminates the need for field service. Simply put the unit in bypass, pull two pins, and remove the valve module. Replace it with a new valve with a 3-year (BrassMaster) or 5-year (BrassMaster Plus) warranty.
If your unit is still in warranty and you believe you require a new valve, please contact your installer.  If your unit is out of warranty, you can purchase a replacement valve at: https://shop.watercontrolinc.com/collections/replacement-modules
Resources
BrassMaster Northwoods™ Water Softener Brochure
Installation & Operation Manual
Northwoods Winterizing Video