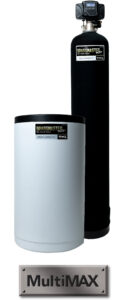 BrassMaster Plus MultiMAX
The MultiMAX water filtration system is an all in one water purification – water softener system. Chlorine and/or chloramines are commonly used as additives in public water systems. The BrassMaster Plus MultiMAX effectively removes these undesirable additives and softens your water at the same time. The result is clean, non-irritating, softened water. The automatic system regenerates with common pellet salt, just like a standard water softening system.
Effective whole house treatment of:
Chlorine & Chloramines
Water Hardness
Tate & Odor Issues
Iron
BrassMaster Plus MultiMAX Design
MultiMAX features a two-chambered tank system with high-quality softener resin and an additional bed of specialized carbon media for removal of chemicals, taste, odors, and other impurities.
APM Modular Design
All models include our popular APM™ modular design, which eliminates the need for field service. Simply put the unit in bypass, pull two pins, and remove the valve module. Replace it with a new valve with a 3-year (BrassMaster) or 5-year (BrassMaster Plus) warranty.
If your unit is still in warranty and you believe you require a new valve, please contact your installer.  If your unit is out of warranty, you can purchase a replacement valve at: https://shop.watercontrolinc.com/collections/replacement-modules
Resources
MultiMAX Systems (All In One Water Purification – Water Softening)
Installation & Operation Manual
Carbon Media Changeout Instructions
Chloramine Concerns
For a detailed summary of chloramine concerns, visit Citizens Concerned About Chloramine.